Currently, the majority of first responder authorities seeking to introduce RPAS into their operations are faced with the challenge of processing a deluge of collected data reliably and efficiently and are thus relying on snapshots to inform specific emergency situations. To address this challenge, the "AIDERS" project will develop online machine learning algorithms to help authorities to process and analyze the data received in real-time.  This will improve the capacity of first responders to obtain accurate visualizations that can help build knowledge maps, which can assist command stations to make more informed and reliable   decisions in crises situations.
The AIDERS project will focus on the development of application-specific algorithms and a novel mapping platform capable of harnessing large volumes of data.  First responders will be able to collect through heterogeneous sensors (including visual, thermal and multispectral cameras, LIDAR, CBRN sensors, etc.) on-board RPAS units, relevant data to help authorities to make informed and accurate decisions.  To evaluate the integration and performance of the AI toolkit, a number of field exercises will be conducted at various stages in the project lifecycle.  Moreover, several training activities will be organized for first responder experts, to enable the wider exploitation of the developed technologies.
The project capitalizes on the expertise of first responder authorities and technical partners to:
• identify which information needs to be extracted from the collected data.
• design online machine learning algorithms to process and analyse the received data in real-time and inform the development situational maps
• implement novel visualizations that can be used by authorities to make accurate and intelligent decisions.
The project consortium includes the KIOS Center of Excellence at the University of Cyprus (Coordinator), the University of Lille in France, the Center for Security Studies (KEMEA), as well as several Civil Defence authorities including the Cyprus Civil Defence, Entente Valabre (Spain), and the Corpo nazionale vigili del fuoco (Italy).
Project's website: https://www.kios.ucy.ac.cy/aiders/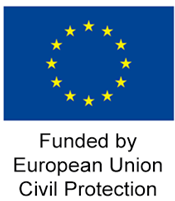 The project is funded by the European Union Civil Protection Call for proposals UCPM-2019-PP-AG for prevention and preparedness projects in the field of civil protection and marine pollution under grant agreement – 873240–AIDERS.