COLLARIS (COLLaborative network on unmanned AeRIal Systems) is a capacity-building initiative to develop a sustainable European network of scientific, engineering, and end-user expertise related to unmanned aerial systems (UAS) in civil protection and disaster response. COLLARIS covers the following thematic focus areas:
identification and sharing of operational procedures, lessons learnt, and best practices using UAS
elaboration of air traffic management challenges, solutions, and operational practices
acquisition of solutions for data analysis and data sharing, as well as auxiliary support systems (e.g. simulators)
development of methods for increasing end-user competences
foresight of new developments and future use case scenarios to identify tomorrow's needs and gaps, technological capabilities, and their potential applications
The general concept of COLLARIS is based on two assumptions: That the technical capabilities related to UAS will continue to develop rapidly, as will the scope of their application for civil protection and crisis management purposes; and that the gap between these recently created technical capabilities and the practical needs and operational practices of civil protection not utilising them yet will remain a permanent challenge. Therefore, there is a clear need for establishing a stable long-term mechanism to continuously support the civil protection community in gradual implementing innovations enabled by UAS developments. The COLLARIS-based community will make an important contribution to achieve that.
COLLARIS will offer a networking platform as part of the Union Civil Protection Knowledge Network for information exchange and experimentation with advanced concepts of UAS for disaster response and crisis management. These activities are accompanied by thematic workshops, webinars, and moderated discussions as well as trials and embedded first responder trainings, aimed at increasing the efficiency of UAS operations by bringing knowledge closer to operational use.
Representatives of civil protection authorities at all levels, first responders, crisis management practitioners, and researchers interested in issues related to further development and operational use of UAS in their activities are cordially invited to join the COLLARIS Network initiatives.
The project's partnership consists of SRC PAS (Project Coordinator) from Poland, MSB from Sweden, EPLFM-Valabre from France, DCNA from Austria, and the KIOS Research and Innovation Center of Excellence at the University of Cyprus from Cyprus.
Project website: https://civil-protection-knowledge-network.europa.eu/projects/collaris-network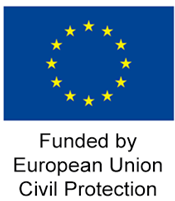 This work is supported by the European Union Civil Protection Call for proposals UCPM-2022-KN grant agreement No 101101704 (COLLARIS Network).