Every year, during the summer, the KIOS Research and Innovation Center of Excellence (KIOS CoE) runs the Undergraduate Research Opportunities Program (UROP). The program's aim is to encourage excellent undergraduate students from Cyprus and abroad, to participate in actual research projects. This program provides a unique opportunity to nurture the skills, experience, and confidence required for such an endeavor, and encourage a culture of science and innovation among young scientists and engineers. The UROP program has been organized, with great success, for 9 consecutive years and has been an integral part of the outreach activities of KIOS since it was formally established. Between 2009 and 2017, a total of 47 students have successfully completed the program.
Professor Costas Pitris, who is coordinating the program at KIOS, explains that: "UROP involves guided work experience for young and budding researchers. Students are given the opportunity to improve their knowledge in a particular research field, often relevant to their studies. With one-to-one support from experienced academics and researchers, the students are introduced to the various aspects of carrying out research. They receive guidance on research methods and approaches which can be applied in the future, as part of their studies or their future career paths. Even if the students do not pursue a career in research, the skills and competences gained during their time at KIOS can be applied to almost all professions."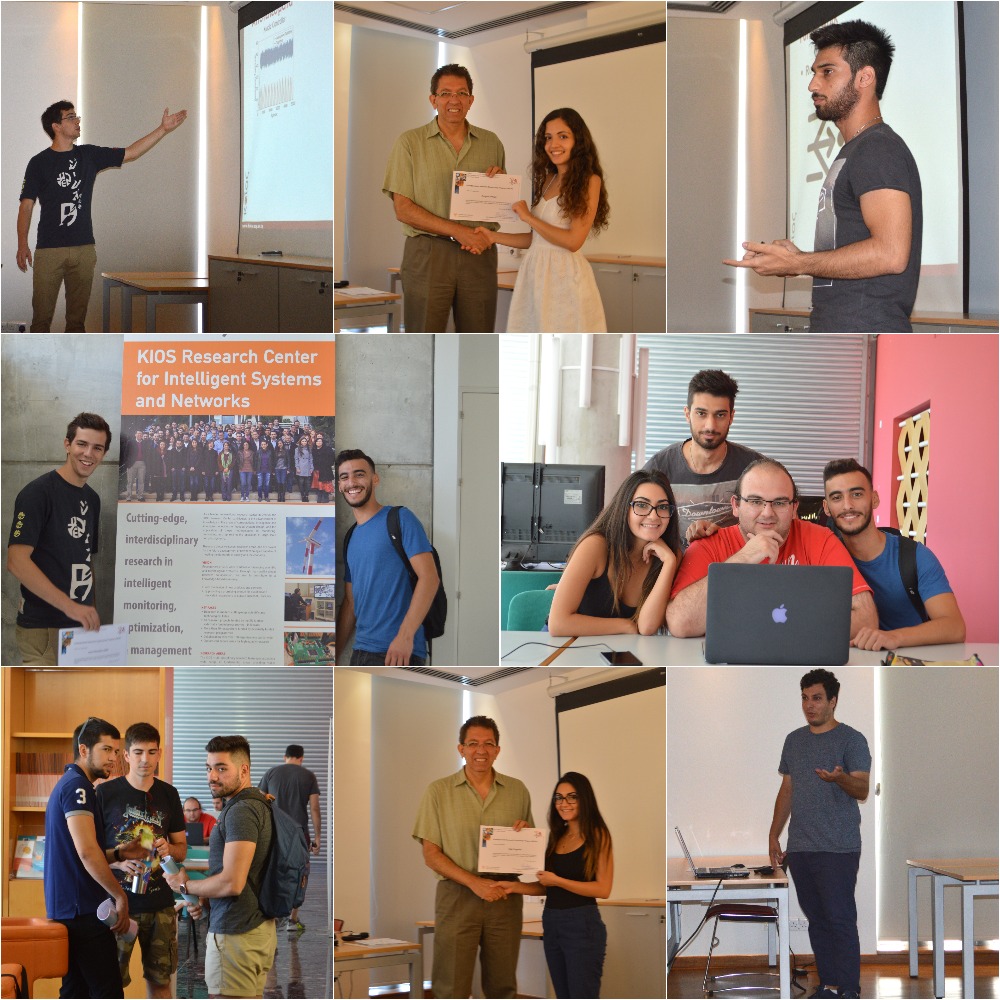 The student selection process was highly competitive, as always, since more than 120 applications were submitted. Given the quality and number of applications, eight students were selected this year, as opposed to five employed in previous years.  This year's UROP students were (in alphabetical order): Avraam Antigoni, Gkagkos Michael, Zagoulou Ioulia, Othonos Alexis, Papacharalambous Charalampos, Papachristoforou Loizos, Souroulas Timotheos, Halas Iason-Theocharis. Four of the students are studying at the University of Cyprus, while the other four are studying abroad (National Technical University of Athens – Greece, University of Cambridge & Imperial College – United Kingdom, and University of Waterloo – Canada).
The selected students had a chance to get a hands-on experience of the scientific research process, working with internationally recognized scientists, on topics relevant to the KIOS CoE research. This year's projects focused on ICT for health, wireless communication networks, transportation networks, as well as on the outreach activities of the center.
On Friday 28th July, the UROP summer interns presented their research and accomplishments of their internship, in front of a large audience consisting of the majority of KIOS faculty and researchers.