The KIOS Research and Innovation Center of Excellence at the University of Cyprus (UCY) has been awarded the Full Open Science Label (FOS) by the YUFE (Young Universities for the Future of Europe) Alliance for its commitment to Open Science.
The KIOS CoE considers Open Science as one of its strategic pillars in achieving its vision of excellence in research and innovation in the area of Critical Infrastructure Systems. To this end, the Center launched the Open Knowledge initiative in 2017 with the main objective to openly disseminate its scientific results beyond the traditional academic dissemination channels. It is comprised of tools aimed towards improving the findability, accessibility, reproducibility, and repeatability of the Center's results (i.e., scientific publications, research datasets, software, and reproducible research capsules) including the KIOS CoE Open Knowledge Portal on Zenodo, the KIOS CoE GitHub repository, and the Code Ocean platform.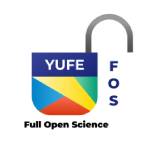 By receiving the FOS Label, the KIOS CoE becomes an ambassador, capable of promoting Open Science within the research and academic community at the local and global level. In addition, KIOS researchers now have the seal of recognition, which boosts their academic visibility and allows them to legitimize their practice in Open Science and in the participation in Horizon Europe calls for projects.
The FOS Label initiative was launched by the YUFE alliance within the framework of the EU-funded YUFERING project, which proposes ground-breaking transformation actions, aiming to facilitate the creation and realization of a shared strong Research & Innovation vision across Europe. The call was addressed towards research groups from the Universities participating in the YUFE Alliance. The KIOS CoE, the largest research unit within the UCY, which is a partner of YUFE, participated in the call. The award ceremony took place online on the 15th of September 2023, where KIOS presented its key benefits and challenges related to the award, and how these reflect its open access policy and aims.