The Chief Executive of the European Defence Agency (EDA), Madame Caulde-France Arnould met with academics at the University of Cyprus during her first official visit to Cyprus. The meeting was organised by the Ministry of Defence of the Republic of Cyprus 21st May 2012. The meeting was attended by Rector of the University of Cyprus Prof. Constantinos Christofides, the Permanent Secretary of the Ministry of Defence Mr. Christos Malikkides and by KIOS Research Center and other academics from the University of Cyprus. The purpose of the meeting was to discuss the role of the University of Cyprus in security-related research and explore the various possibilities for collaboration at a research level with the EDA and the Ministry of Defence.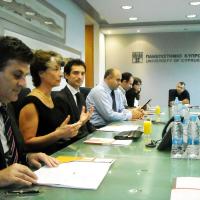 During the meeting the Director of the KIOS Research Center, Prof. Marios Polycarpou, gave a presentation on the research activities of the Center, emphasising that issues of monitoring, management, control and security of critical infrastructures, such as power, telecommunication, transportation and water networks, are relevant to the areas of interest of the EDA. The University of Cyprus currently participates in 3 project funded by EDA.
The meeting concluded on a positive note and a keen interest from all involved to promote the continued participation of Cyprus in European Defence research.