The proposal submitted by KIOS postgraduate researchers Christos Laoudias, Demetris Eliades and Demetris Stavrou were ranked first in the competition "Design of a digital eBook reader and content management platform". The competition was launched by the University of Patras and the Greek Free / Open Source Software Society (GFOSS), under the auspices of the Special Secretariat for Digital Planning in Greece.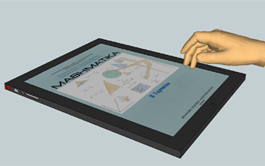 The objective of the competition was to describe new ideas for the introduction of eBook readers in education. The proposal is based on a lightweight portable device, such as the increasingly popular Tablets (e.g. iPad), which could eventually replace the printed school books and notepads in the near future, thus enhancing the learning process for pupils and students. In addition, teachers will be able to organize their courses and classrooms, and provide material to the students via the Internet.
The next milestone is the implementation of a functional prototype system to demonstrate the new opportunities offered in education. The ultimate goal is to develop an end-to-end solution that integrates the eBook readers with the content management platform in order to serve the upcoming needs and the new trends in education.
The researchers will receive a €4.000 award during a ceremony that will be organized by the University of Patras.