KIOS Research Associate Dr. Stelios Timotheou has received the "2017 Young Researcher Award" from the Cyprus Research Promotion Foundation. Dr. Timotheou won the award for his research project entitled: "Development of interference exploitation methods in wireless communication systems", under the Physical Sciences and Engineering category.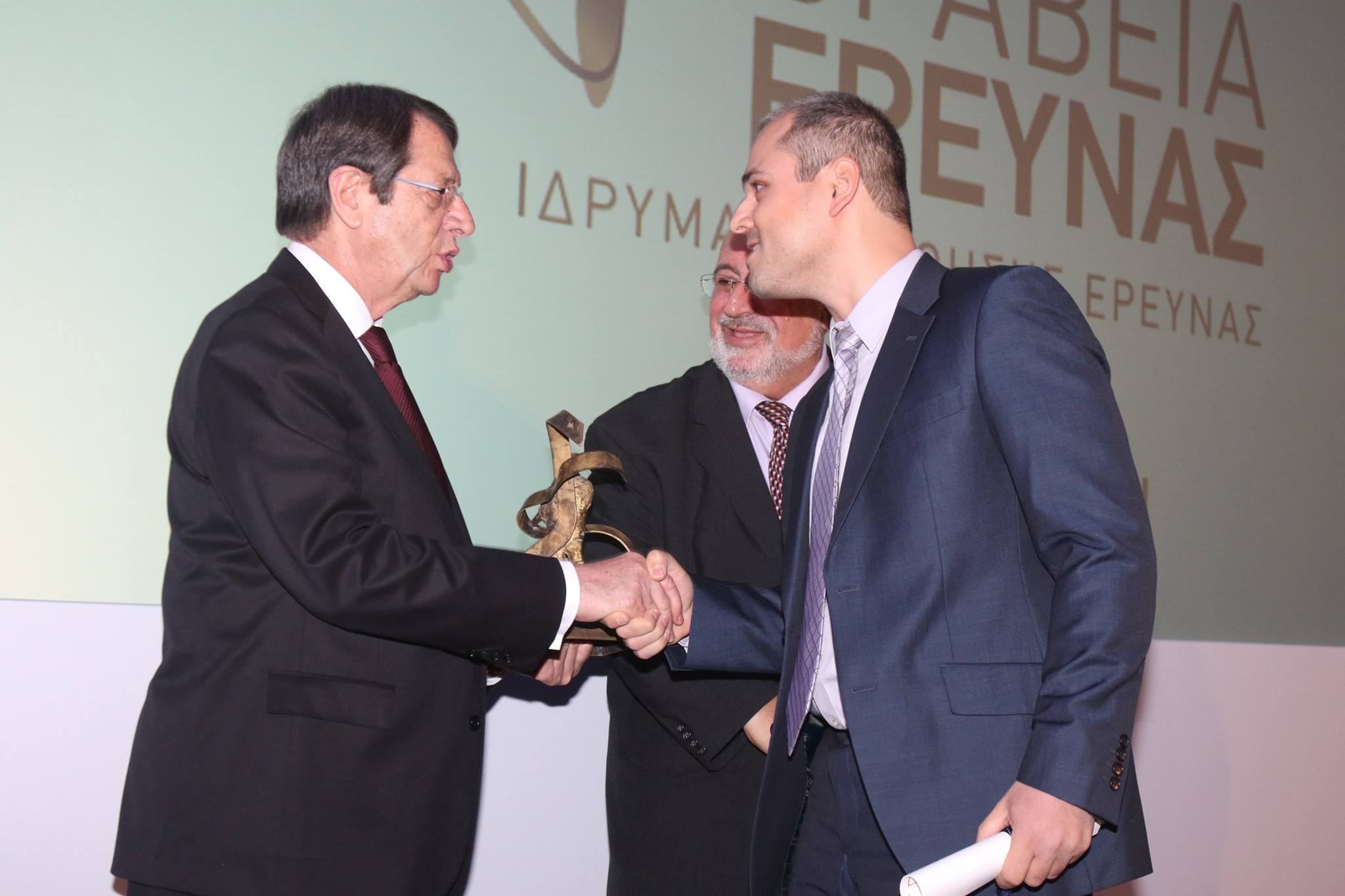 This particular Award recognizes the significant research contribution of young researchers, who are selected following a formal review process. Dr. Timotheou was selected for the award on the basis of (a) his extensive publication record in prestigious journals and conferences, (b) the multidisciplinary nature of his work in cutting-edge research areas such as wireless power transfer, next generation mobile communications, and application of information theory to secure communications, and (c) his high potential to pursue an independent research track.
The Award Ceremony for the 11th Cyprus Innovation Awards took place on Wednesday, November 29th 2017, at Hilton Cyprus, Nicosia, during which the awards were presented by H.E. the President of the Republic Mr. Nicos Anastasiades. The event was co-organized by the Cyprus Research Promotion Foundation and the Cyprus Employers & Industrialists Federation (OEB), with the support of the Ministry of Energy Commerce Industry & Tourism.
Dr. Stelios Timotheou holds a Dipl-Ing in Electrical and Computer Engineering from the National Technical University of Athens, and MSc and PhD degrees from the Department of Electrical and Electronic Engineering of Imperial College London. Previously, he worked as a Visiting Lecturer at the Department of Electrical and Computer Engineering of the University of Cyprus, and as a Research Associate at the Computer Laboratory of the University of Cambridge. His research focuses on the modelling and system-wide solution of problems in complex and uncertain environments that require real-time and close to optimal decisions. The main application area of his work is critical infrastructure systems, including intelligent transportation systems and telecommunication systems.