Around 15-25% of the drinking water in Europe flowing through the water networks is lost and is not priced due to leaks and damages. This entails a huge financial cost to water distribution organizations. This phenomenon has a particular impact on islands of the Mediterranean, such as Cyprus and Crete, due to water scarcity and high desalination costs. The project SmartWater2020, "Intelligent Water Distribution Networks for Reducing Loss", is being funded by the INTERREG V-A "Greece-Cyprus 2014-2020" Cooperation Programme to develop smart technologies capable of helping water authorities improve their water distribution system's monitoring and control capabilities which in turn can help reduce water losses.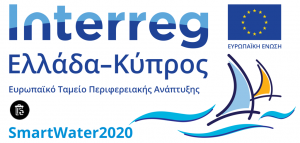 The project SmartWater2020 is coordinated by the KIOS Research and Innovation Center of Excellence of the University of Cyprus. From Cyprus, the Water Boards of Limassol and Larnaca and the Water Development Department are important partners in the project providing essential industrial perspectives on the needs of water authorities, while the Hellenic Research Foundation and the Municipal Water Supply and Sewerage Company Malevizi are participating from Greece.
The kickoff meeting of the project partners took place on Thursday, December 21, 2017 at the University of Cyprus. The project activities involve the installation of innovative technologies such as sensors, valves, and meters in water supply systems, their interconnection with an innovative smart water monitoring software for early detection of leakage and water quality problems, as well as the development of a pioneering pressure control system to reduce water losses.
According to the Project Coordinator, Prof. Marios Polycarpou, "Intelligent monitoring of water networks can help the management of all factors that may affect proper functioning of our water networks. This includes events ranging from leaks, stealing of water, infrastructure damages, water quality changes, and cyber-attacks. The aim is to develop technologies capable of identifying any errors or faults that prevent the network from functioning properly, so that these can be isolated and the problem can be remedied in a timely manner through automated and controlled processes. The ultimate goal is to save resources while increasing the reliability and security of the existing infrastructure."
The project's industrial partners believe that the project is extremely important and has far-reaching impact to the lives of the people in Cyprus and Crete, stating that "Water is a rare resource for both Crete and Cyprus and its savings through the implementation of innovative technologies being developed in the SmartWater2020 Project are increasingly valuable."