The KIOS Research and Innovation Center of Excellence (KIOS CoE) at the University of Cyprus is participating in a challenging research project entitled "SESAME: Secure and Safe Multi-Robot Systems", funded by the EU under the Horizon 2020 program. The project aims to develop a new generation of Multi-Robot Systems (MRS), utilizing AI/ML among other approaches to design dependable and secure multi-robot systems for key European sectors including Healthcare, Manufacturing, Agri-food, and Infrastructure Inspection.
Development of a new generation of Multi-Robot Systems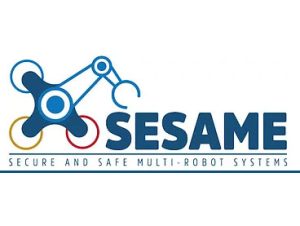 Currently, MRS play a significant role in missions ranging from precision agriculture and fast delivery of medical samples to real-time road traffic monitoring and critical infrastructure inspection. The intrinsic characteristics of these missions, i.e. distributed sensing and action, uncertain operating environment, and the need for endurance and robust behaviour, necessitate the use of MRS instead of single-robot solutions.
Although MRS offer improved scalability and performance, increased robustness, and mission enablement, the lack of a systematic engineering methodology, covering the complete engineering lifecycle and handling efficiently the salient characteristics of MRS such as openness, uncertainty, variability, and interplay of safety and security, results in solutions that fail because of fragile design and unrealistic assumptions.
To overcome these challenges, the SESAME project will develop advanced technologies that will deliver an open, modular, model-based approach for the systematic engineering of dependable and secure MRS. Target MRS may employ Artificial Intelligence and will be capable of operating dependably in open configurations, and in conditions of uncertainty that include the acknowledged possibility of cyber-attacks. The SESAME approach will be validated through five use cases in the domains of healthcare, agile manufacturing, agri-food, and inspection and maintenance.
Validation of SESAME approach in Cyprus
The KIOS CoE participates in the project as a key partner and will offer its technical expertise for developing and implementing the multi-robotic coordination and data collection system. Furthermore, KIOS in collaboration with the Cyprus Civil Defence are responsible for the power station inspection use case at Vasilikos Power Station in order to evaluate Sesame project new technologies related to safety, security etc.
Coordinated by The Open Group and under the Technical Direction of University of York, the SESAME consortium includes leading universities and research institutes: ATB, Bonn-Rhein-Sieg University, FORTH, Fraunhofer, KIOS Center of Excellence at the University of Cyprus, University of Hull and University of Luxembourg; leading robotics manufacturers and technology providers: KUKA, Locomotec and TTS; and industrial, agricultural and government organisations that rely on robotic systems: Aero41, Domaine Kox, Luxsense, AVL, and Cyprus Civil Defence Agency. Partners are based in Austria, Cyprus, Germany, Greece, Italy, Luxembourg, Switzerland, and the United Kingdom.
The KIOS CoE research team at the University of Cyprus participating in this project is led by the Associate Professor Maria Michael and is complemented by the Research Assistant Professor Panayiotis Kolios and the Research Associate Dr. Panayiota Nicolaou.
Project's website: https://www.sesame-project.org/

The SESAME project is funded by the European Union's Horizon 2020 Research and Innovation Programme under grant agreement No. 101017258.