The KIOS CoE research team consisting of the Research Associate Dr. Giannis Savva, the Research Fellow Dr. Kostas Manousakis, and Prof. Georgios Ellinas, in collaboration with the Senior Researcher Dr. Vasilis Sourlas from the I-Sense Research Group of the National Technical University of Athens, has won the Best Paper Award for the paper entitled "Joint Content Placement and Secure Lightpath Provisioning in EONs Supporting Anycast Traffic".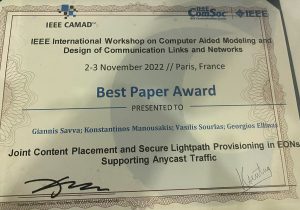 The focus of the awarded paper is to provide physical layer security for confidential connections against eavesdropping attacks in next-generation optical networks, that will be used to support the increasing traffic required by services and applications in 5G technologies, data centers, and content delivery networks. Specifically, using concepts of content delivery networks such as content placement and delivery, as well as content replication, anycast connections established within these networks are utilized within the encryption process to provide an enhanced level of security for the confidential demands.
This paper was presented at the 27th IEEE International Workshop on Computer-Aided Modeling and Design of Communication Links and Networks (CAMAD) in Paris, France. The IEEE CAMAD conference hosts a rich program of tutorials, keynotes, and sessions, with the aim to bring together a diverse group of scientists and engineers to exchange and share new ideas and concepts in the areas of 5G and industry 5.0.
Link to the Conference: https://camad2022.ieee-camad.org/
This research work was supported by the European Union's Horizon 2020 research and innovation programme under grant agreement No 739551 (KIOS CoE – TEAMING) and from the Republic of Cyprus through the Deputy Ministry of Research, Innovation and Digital Policy. It was also partially supported by the Cyprus Research and Innovation Foundation under project CULTURE/AWARD-YR/0418/0014 (REALFON).